DESCRIPTION
Divoom 40w Bluetooth Speakers- The Voombox-Pro Bluetooth speaker has 40W DSP professional-tuned audio let you hear a 360 surrounding sound. delivers surprisingly loud volume, Perfect put in office, dorm room, apartment, yard, garage, campfire, beach, whatever you need it to do TWS Stereo Pairing- Support TWS stereo, Connect two Voombox-Pro Bluetooth Speaker together, and double the acoustic experience with the TWS stereo pairing function, It is a perfect party speaker for a family celebration or a romantic summer night Battery Life- Built-in high quality 10000mAh battery enables Up to 12 hrs playtime music playback at Powerful volume.
Features:
40W DSP-tuned stunning audio
Six drivers 360 omni directional sound
IPX5 waterproof and rugged design
TwS double up pairing with Stereo mode
10000mAh battery and USB charging function
EPIC AUDIO FOR YOUR WORLD
The new Voombox-Pro features a 40W of stunning audio, as well as the 360 omni directional sound for your outdoor activities. It offers 12 hours non-stop music play with its 10000mAh battery, as well as the USB charging capability for your mobile. You can further enhance the audio experience by pairing another Voombox-Pro together into the TwS stereo mode. Along with the IPX5 waterproof design, time to let its epic audio to rock your world!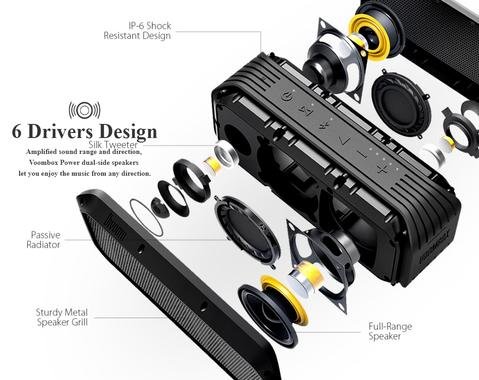 OMNI DIRECTIONAL SOUND
360 sound directs the stunning audio in every direction The omni directional sound is perfect for the outdoor audio.
40W DSP – TUNED AUDIO
Tremendous power tamed by the Divoom audio engineers.Delivers immersive sound and surprisingly loud for its size
6 DRIVERS DESIGN
Full range, passive radiator, tweeter; double everything .Voombox Pro delivers the ultimate audio experience
DOUBLE-UP PARING
Equipped with the latest Bluetooth technology .Pair them together for the ultimate stereo audio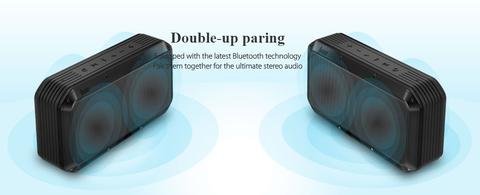 IPX5 WATERPROOF
You're not afraid of a little water, and neither should your speaker. Voombox-Pro's waterproof design means you can use it in most places without worrying, like at the beach or by the pool.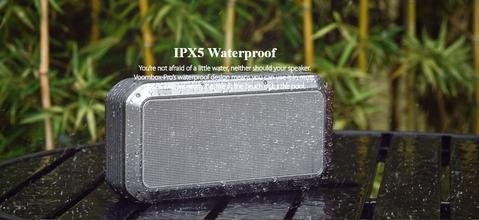 RUGGED DESIGN
Like its rugged appearance, the Voombox-Pro is built with toughest components. No worries if you
knock it off the desk or set it down on the rural camping ground.
SPECIFICATIONS
| | |
| --- | --- |
| Dimensions | 245L x 123W x 60H mm |
| Driver Size | 2.5" full range+Tweeters x 2 |
| Output Power | 40W |
| Signal to Noise Ratio | 85dB |
| Battery Capacity | 10000mAh |
| Battery Voltage | 3.7 V |
| Battery Charge Time | 4-5h hours |
| Playback Time | Up to 10 hours |
| Bluetooth Compliant | Bluetooth V4.2 smart |
| Weight | 1449g |
| Frequency Response | 65-20K Hz |